Pedorthics
Adult and Pediatric Foot Orthoses
Prescribing comfortable and functional foot orthoses involves thorough biomechanical assessment of the lower extremity. While wearing comfortable foot orthotics ensures compliance, it has to be able to accomplish the biomechanical correction intended for the patient as well. Our pedorthic evaluation includes a hands on assessment to check for pain and discomfort, range of motion, strength, and anatomical alignment of the foot and other joints in the kinematic chain. We use Gait Scan™ to determine the plantar pressure distribution on both feet. This information is what we use to determine accommodations or postings necessary for the design and manufacture of the foot orthoses. We also utilize video gait analysis to determine if any other services are needed for a safe, efficient, and pain free ambulation such as physical therapy, orthopedic or podiatry consult.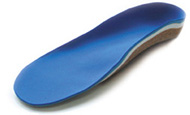 Accommodative Foot Orthoses/Diabetic Shoe Inserts
Accommodative foot orthotics are recommended for patients with rigid feet, or for patients with foot deformities mostly for the purpose of accommodating foot deformities, bringing the ground up to the foot, and cushioning to dampen the ground reaction force. We use closed cell materials as a top cover to resist high impacts and for anti-bacterial purposes. It meets the Medicare definition, "multiple density insert, custom molded from model of patients' foot, total contact with patients' foot including arch, base layer minimum of 3/16 inch material of shore A 35 durometer or higher, includes arch filler and other shaping material, custom fabricated." It provides pressure relief for plantar abnormalities and bony prominences.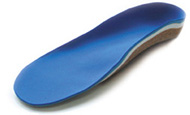 Functional Foot Orthoses
Functional Foot Orthoses are used to control hypermobile feet. We design functional foot orthoses according to the patients' weight, activity level, mobility of the foot and ankle, and biomechanics presentation of the lower extremity and the spine. When assessing the need for foot orthotics, we take into consideration the fact that the foot initiate the body's response to the ground reaction force as soon as the heel contacts the ground. We use Gait Scan™ and video gait analysis in addition to hands on assessment to help us design a more effective foot orthosis. Our pedorthists and orthotists work hand in hand with our physical therapist for a more comprehensive assessment of the patient.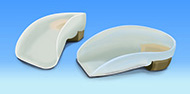 UCBL (University of California Biomechanical Laboratory)
UCBL is recommended for flexible flat feet. It is made out of rigid thermoplastic material for maximum control of a flexible flat foot. It holds the subtalar joint in neutral and its molded heel cup holds the calcaneus in vertical position or neutral. It allows ankle movements while controlling the joints of the midfoot.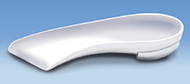 Gait Plates
Gait plates are recommended for toeing in or toeing out in children. It is made out of a rigid thermoplastic material designed to change the walking pattern of a child. A Gait plate with lateral extension is used to induce out toeing and one with medial extension is used to induce in toeing. A thorough physical therapy and pedorthic evaluation is needed to determine the appropriateness of this device on a patient.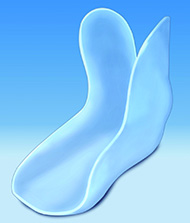 SMO (Supramalleolar Orthoses)
SMOs are recommended for patients with excessive pronation or flexible pes planovalgus and ankle instability. It is made out of rigid thermoplastic material designed to stabilize the ankle medially and laterally and allows full plantarflexion and dorsiflexion to occur. It is also recommended for patients with ligament laxity in the midfoot. These custom functional orthoses can be worn inside a shoe and is durable and lightweight.